The Wyntercreek Lifestyle
Wonderful People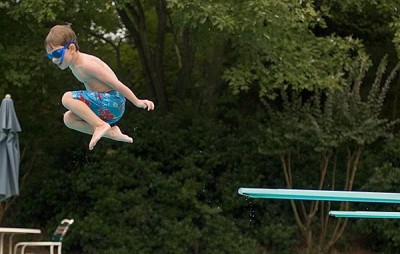 A diverse group of people call the Wyntercreek subdivision their home. While many of the new homeowners are young families attracted to the area by the local public schools, there are also many families that have lived here for 20 years or more. There are many children and plenty of safe and fun places for them to play, with quiet cul-de-sacs, easy access to the Dunwoody Nature Center and a neighborhood swim and tennis club, which is open from May to mid-September.
Austin Elementary School is less than half a mile from the neighborhood entrance. On sunny days, moms and dads often walk their younger children down the tree-shaded sidewalks past (or through) Dunwoody Nature Center to school, while the older ones ride their bicycles to Austin.
The very active Wynterhall Swim and Tennis Club, located just inside the entrance of the neighborhood, has a six-lane pool with two diving boards. In the summer, the club has swim and dive teams for children from ages 5 to 18, which lasts from mid-May to late June. For the tennis enthusiast, the club has four tennis courts and offers various levels ALTA teams for both adults and children. There is an optional member neighborhood group called the Neighbors of Wyntercreek. This group sponsors a book club, maintains the front entrance with seasonal plantings, and hosts regular parties and seasonal socials for families and adults.
Close-in Relaxed Living
Located just 1.5 miles north of Perimeter Mall and I-285 and a half mile from GA-400, Wyntercreek is too far away from major thoroughfares to hear traffic noise, but close enough to give easy access to highways going in every direction.
Leisure activities are convenient too. Wyntercreek is bound on the north by the Dunwoody Nature Center and the Dunwoody Senior Baseball fields. The nature center features a wetland boardwalk, a treehouse overlooking woodland and streamside walking trails, display gardens, a picnic meadow and a shaded playground. Dunwoody Senior Baseball offers leagues for children ages 13-18, picking up where nearby Murphey Candler Little League leaves off.
There are also several very nice restaurants located a quarter of a mile away, just past the entrance, and homeowners are frequently seen walking to or from dinner or the coffee shop. Other attractions within easy walking distance include the Dunwoody Public Library, Stage Door Players (producing a full season of professional theater productions for adults and children), and The Spruill Center for the Arts (offering a gallery as well as educational programs).
With so much to do right in your back yard, you might not even need your car.
Great Home Value
When you take the wonderful qualities of the neighborhood and combine them with such a desirable location — walking distance to Austin Elementary School, shops and restaurants — you get great home values. Homes typically sell quickly and many are never officially put on the market, being sold to eager buyers who have heard of a pending sale through word of mouth. As a result, many homeowners have felt comfortable remodeling or adding on to their homes, confident that they will be able to recover their investment. That's the way it is when you live in Wyntercreek.
Neighborhood photography by local photographer Alan Mothner.